Continuous improvement of domestic large cycle to promote recovery of ship market
---
Nanjing, September 9, Xinhua (reporter Liu Yuxuan) with the continuous promotion of the policy of expanding domestic demand, the domestic circulation has continued to improve, and the domestic trade market has recovered significantly. Driven by this, the domestic trade shipping, shipbuilding and other industries and fields closely related to market prosperity have also shown a trend of adverse growth recently.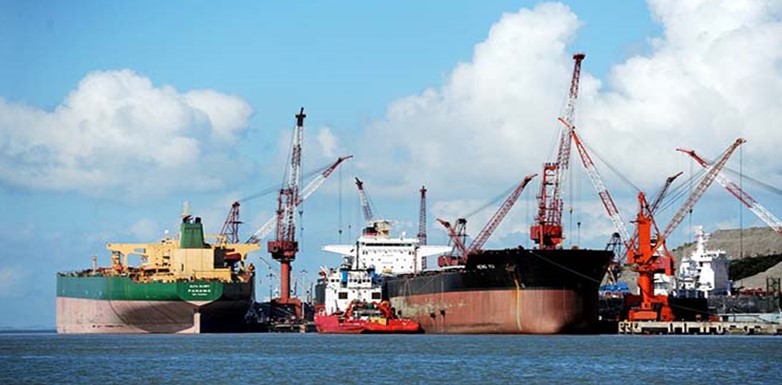 Affected by the epidemic situation, China's total import and export volume has been on a downward trend since this year. In view of this situation, local governments have increased policy efforts. On the one hand, through tax reduction and fees reduction, enterprise financing costs and other measures to continuously reduce the burden of enterprises, on the other hand, they have increased the policy of expanding domestic demand to help enterprises develop domestic trade market. According to the data of the Ministry of Commerce, the domestic sales volume of export enterprises has shown a sustained growth trend since April this year. As an important "barometer" of the domestic trade market, the domestic trade shipping, shipbuilding and other fields have also shown a trend of growth against the trend.
As an important shipbuilding enterprise in China, Sumida Shipbuilding Co., Ltd., a subsidiary of Jiangsu Sumida Co., Ltd., has delivered 14 ships, including 3 domestic trade ships, and has won many orders for domestic bulk carriers, realizing the multi-point blossom of domestic trade ship market.
With the rapid recovery of domestic economy after the epidemic, the domestic shipping market has obvious demand for shipping capacity. At the same time, the state's attention and attention to environmental protection has accelerated the pace of upgrading domestic shipping vessels, and the market demand for the new generation of low fuel consumption domestic trade ships meeting the national environmental protection and energy saving requirements is increasing. In order to implement the requirements of smooth domestic and international double circulation and further expand the domestic trade market, Sumida introduced the standardized standards and technology into the new domestic trade ships. This not only meets the national environmental protection requirements, ensures the safety of ships, but also meets the economic requirements. It promotes the healthy and long-term development of the industry while improving the technology and quality of domestic trade ships.
Jin Yongchuan, general manager of Sumida and chairman of Sumida shipping, said that Sumida is continuously optimizing the existing industrial chain, improving R & D and manufacturing capabilities, more accurately grasp the needs and pain points of domestic trade ship owners, develop and design ship types that meet the characteristics of domestic trade, and improve its comprehensive ability to serve the domestic trade ship market.
Relying on the newly established Shanghai R & D center, Sumida has introduced advanced environmental protection, energy saving and manufacturing technologies into the R & D and design of domestic trade ships, focusing on building new domestic trade energy-saving ship types of "direct river sea" and "coastal" with wide market demand. At present, it has successfully manufactured and delivered three domestic bulk carriers with direct shipping capacity of nearly 60000 DWT from river to sea, and obtained two orders of more than 50000 DWT and two 75000 DWT domestic bulk carriers.
It is reported that since 1987, Sumida has been winning the trust of many international shipowners through its high-quality ship products and services. It has built and delivered more than 300 ships for shipowners from Germany, Denmark, Poland, Italy, the Netherlands, Greece, Australia, Qatar, South Korea and Singapore, and steadily promoted the development of foreign trade ship business.
Relying on the deep international background and strong industrial foundation, Sumida has fully utilized the advantages of the industrial chain integrating ship type R & D, design and construction, management and operation, linked the foreign trade ship market and domestic trade ship market resources, and imported the advanced technology and experience of foreign trade ship into the domestic trade ship market, so as to make the domestic and international double circulation smooth.
Xu Gang, general manager of Sumida, said that relatively speaking, the international ship market has relatively uniform technical standards and industry norms, and there is still a lot of room for domestic ship market development. Sumida needs to make joint efforts to continuously improve the technical standards, economic efficiency and environmental protection standards of domestic ship types, and create a more open, convenient and fair domestic ship business environment with international standards Environment.
Recently, China's first cross-border transport route of domestic trade goods in northern China, "Qingdao port of Shandong Port - Zarubino port - Hunchun" was opened, opening a "green channel" for cross-border transportation of domestic trade goods between Shandong and Northeast China. Industry experts said that under the promotion of the policy, many enterprises have increased their efforts to develop the domestic trade market. Especially in this year's global shipbuilding industry downturn and state, China's shipbuilding enterprises through the active development of domestic trade market, showing an overall growth trend.
Last article: Interpretation of revision of ship safety supervision rules of the people's Republic of China
Next article: 150000 DWT oil tanker settled in Yangpu Port of China